Blade
Biographical information
Homeworld
Born
Physical description
Species

Human

Gender

Male

Height

5'9"

Hair Color

Black

Eye Color

Brown

Family information
Family

Eric Brooks (cousin)


Political information
Affiliation
"I promise you, you'll be dead by dawn."
―Blade Brooks
Blade Brooks (also known as simply Blade) was a vampire-human hybrid vampire hunter and assassin who served as leader to the Bloodpack and later as a member of Whiplash.
Biography
Edit
Early life
Edit
Becoming a vampire hunter
Edit
Battling the Court of Ravens
Edit
"It's not over. You keep your cure. There's still a war going on, and I have a job to do. You wanna help? Make me a better serum."
―Blade
Personality and traits
Edit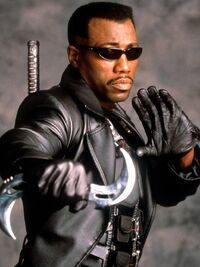 "You better wake up. The world you live in is just a sugar-coated topping! There is another world beneath it... the real world. And if you wanna survive it, you better learn to pull the trigger!"
―Blade
Relationships
Edit
Friendships
Edit
Powers and abilities
Edit
Superhumanly Acute Senses: His sense of sight and hearing were heightened to levels comparable to those possessed by ordinary vampires. He was capable of seeing objects with perfect clarity at much greater distances than an ordinary human. He retained this same level of clarity even in near-total darkness. Blade's hearing was similarly enhanced, allowing him to detect sounds that an ordinary human couldn't from greater distances.
Superhuman Strength:
Superhuman Speed: Blade was capable of running and moving at speeds greater than even the finest human athlete.
Superhuman Agility: Blade's agility, balance and bodily coordination were enhanced to levels that were beyond the natural physical limits of the finest human athlete.
Superhuman Stamina: Brooks' musculature generated less fatigue toxins during physical activity than the musculature of an ordinary human. He could exert himself at peak capacity for several hours before fatigue began to impair him.
Superhuman Durability: His Vampire/Human Hybrid tissue allowed him to sustain physical trauma much more so than an ordinary mortal.
Regenerative Healing Factor: Blade possessed an accelerated healing ability that allowed him to heal mild to moderate injuries with much greater speed and efficiency than an ordinary human.
Prolonged Lifespan:
Appearances
Edit
Notes and references
Edit