"Never trust anyone who doesn't drink coffee."
―Cat Bishop
Cat Bishop (also known as Catwoman, Crazy Chick, Hawkeye, Geek Goddess, Geekisher and Miss Patches) was a human vigilante affiliated with Whiplash.
Biography
Edit
Early life
Edit
Cat Bishop was born prematurely on March 19, 1987, in Union City, New Jersey, the daughter of Janet and Robert Bishop. She was the youngest of three children and of Puerto Rican descent. In describing her childhood, Bishop had said that her family struggled with poverty, mental illness, and drug addiction. They lived in motels, other people's houses, and their car.
In 2005, Bishop graduated from Memorial High School. She attended New York University's Tisch School of the Arts in New York City, where she majored in film and television production, until family and financial issues led to her dropping out six months into her studies.
Bishop was diagnosed with bipolar disorder in her early twenties. She had previously experienced adverse effects from a misdiagnosis of depression and overdosed on antidepressants and painkillers. This event, which she considered a suicide attempt, caused her to seek proper treatment and the right diagnosis. She credited the condition for giving her bravery.
Personality and traits
Edit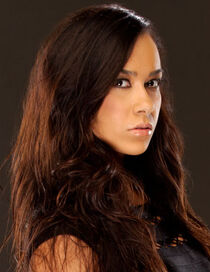 "Break the rules. Be a fighter. Any dream is possible if you are brave enough to do it your way."
―Cat Bishop
She had a pet dog named Lucky.
Relationships
Edit
Friendships
Edit
"I dig crazy chicks."
―Frank on Cat
Powers and abilities
Edit
Appearances
Edit
Notes and references
Edit