Dino
Biographical information
Homeworld
Birth Name

Connor Lovegood

Born
Physical description
Species

Human-Reptillian hybrid

Gender

Male

Height

6'2.5"

Hair Color

Light Brown

Eye Color

Blue
Yellow (as Dino)

Family information
Family

Connor Lovegood's father (father)
Tina Lovegood (mother)
Hook Lovegood (son)


Political information
Affiliation
"I can help them! I can cure them! There's no need to stop me..."
―Dino
Connor Lovegood (also known as the Dinosaur or simply Dino) was a human-reptillian hybrid scientist with OZcorp and member of the Court of Ravens.
Biography
Edit
Early life
Edit
Connor Lovegood was born to a reptillian father and a human mother by the name of Tina Lovegood in London, England on September 12, 1968.
Personality and traits
Edit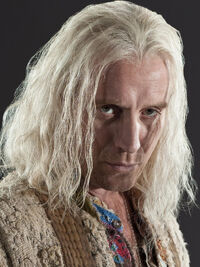 "Nowhere to hide..."
―Dino
Connor Lovegood was a good man at his core who simply "wanted to change the lives of millions, including his." However, he was also afflicted with a dual personality disorder which manifested itself as a transformation into a monster-creature called the "Dino". He would later come to learn that the "creature" was actually his true form as his biological father was a reptillian extra-terrestrial.
As Dino, however, he seemed to be the opposite of Connor in many ways. Although he displayed an animalistic cunning and viciousness, he still displayed Lovegood's intelligence, albeit somewhat twisted, to create a new breed of beings to inherit the world.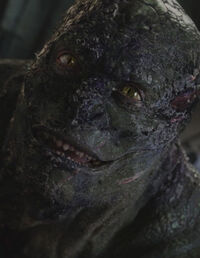 For reasons that remained largely unrevealed, Lovegood was also known to wear a long blond wig while in his human form which was easily identifiable to others.
Powers and abilities
Edit
As Dino, Connor Lovegood displayed superhuman abilities rivaling, if not surpassing several Spider-Man's.
Appearances
Edit
Notes and references
Edit