"Isn't this what you always wanted, daddy? For me to be a costumed freak!"
―Heleena Wain
Heleena Wain (also known as The Harlequin) was a human, criminal, vigilante who was affiliated with the New Joker's Gang.
Biography
Edit
Early life
Edit
Heleena Wain was born in Long Island, New York, on July 20, 1990 to Bruce Wain and Silena Kyle.
Joker kidnapped Wain with the help of Harley Quinn and used shock treatments and serums to extract secrets about Batman from her.
Helena was able to overcome the trauma through years of therapy, though she was still under the influence of the chip Joker had installed on her that changed her from Heleena Wain into the Harlequin.
Personality and traits
Edit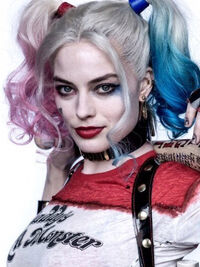 "Aww, all this for me? I'm touched."
―Heleena Wain
Heleena Wain was a highly intelligent, calm and compassionate young lady, before the Joker transformed her both mentally and physically into "Harlequin". Through the shock therapy and the Joker's manipulation, her mind and emotions were twisted and she was made into a homicidal, sadistic, child-like psychopath, who would use her playful personality to achieve her goals or to entertain herself, usually harming others in the process.
Heleena carries almost an innocent persona, wide-eyed and bright, finding humor in otherwise dark situations, much like Joker himself. However, despite her sociopathy, Heleena was highly intelligent, as Heleena was able to make swift breakdowns of the psychological profiles of her teammates. Her intellect also extended itself to tactical skills.
Heleena was also quite tough and pathologically fearless.
Although often painted as a victim of psychological abuse, the Joker himself claimed very little credit for Heleena's condition.
Relationships
Edit
Paraphernalia
Edit
Chiappa Rhino 60DS: Heleena sported a customized Chiappa Rhino 60DS, 6 cylinder magnum revolver that she carried in a black leather holster slung under her arm. Each cylinder had Love or Hate engraved into them.
Baseball Bat: Heleena carried a personalized wooden baseball bat with "Good Night" written down the side of it that she used for close quarters combat.
Mallet: Heleena carried a personalized wooden mallet which she used during her villainous escapades.
Appearances
Edit
References
Edit
Community content is available under
CC-BY-SA
unless otherwise noted.