"I can't relate to lazy people. We don't speak the same language. I don't understand you. I don't want to understand you."
―Kobe Bryant
Kobe Bryant (also known as Black Mamba, White Hot and Black Cold), was a human, male, basketball player who was the founder of his gang The Court.
Biography
Edit
Early life
Edit
Kobe Bryant was born on August 23, 1978 in Philadelphia, Pennsylvania he was the youngest of three children and the only son of former NBA player Joe Bryant and Pamela Bryant. He was also the maternal nephew of basketball player John "Chubby" Cox. His parents named him after the famous beef of Kobe, Japan, which they saw on a restaurant menu. His middle name, Bean, was derived from his father's nickname "Jellybean". Bryant was raised Roman Catholic. When Bryant was six, his father retired from the NBA and moved his family to Rieti in Italy to continue playing professional basketball at a lower level. Kobe became accustomed to his new lifestyle and learned to speak fluent Italian. During summers, he would come back to the United States to play in a basketball summer league.
Bryant started playing basketball when he was 3 years old, and the Lakers were his favorite team when he was growing up. Bryant's grandfather would mail him videos of NBA games, which Bryant would study. At an early age, he also learned to play soccer and his favorite team was A.C. Milan. When Kobe's father Joe retired as a player in 1991, the family moved back to the United States.
Personality and traits
Edit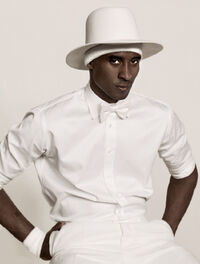 "The only thing I'm afraid of is bees. I don't like bees. I'm allergic to them."
―Kobe Bryant
Kobe was an arrogant and bold individual. Bryant's bold nature did come in to play when he wore an all white outfit.
Relationships
Edit
Friendships
Edit
Powers and Abilities
Edit
Appearances
Edit
References
Edit