"Go get 'em, tiger."
―Mary Jane Row
Mary Jane Row was a human, actor, singer and a member of the Spider Army and as well as the group Whiplash.
Biography
Edit
Early life
Edit
Mary Jane Row was born in Point Pleasant, New Jersey on April 30, 1982 to ? and Adrienne Bell.
Personality and traits
Edit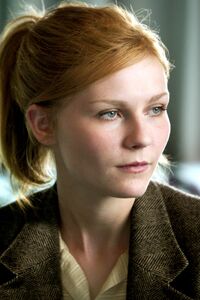 "We've all done terrible things to each other, but we have to forgive each other. Or everything we ever were will mean nothing."
―Mary Jane Row
Mary Jane was a loyal friend and a warm person, capable of intense love and real feelings. She was never vain nor showed contempt for humble people who were considered losers.
Relationships
Edit
Friendships
Edit
Mary Jane: "Can you bump me on the head?"
Franco: "Bop!"
―Mary Jane Row and Franco Osborne
"He's saved my life twice and I've never even seen his face."
―Mary Jane Row
Powers and abilities
Edit
Appearances
Edit
Notes and references
Edit