"Well, you know what they say about the fittest."
―James Bond
Simon Templar, (also known as James Bond, James St. John Smythe, James Stock and M), was a Human intelligence agent and who served as Senior Operational Officer and later as Minister within the British Secret Intelligence Service.
Biography
Edit
Early life
Edit
The man who would one day largely become known as James Bond was in actuality born Simon Templar on 25 August 1927 in England to Jasper and Lillian Templar.
Time in MI6
Edit
Taking over as Bond
Edit
"Good evening. My name is Bond. James Bond."
―James Bond
The "new" James Bond was soon sent to investigate the murder of three British MI6 agents, Dawes, Hamilton and Baines (who in fact shared the same bootmaker with Bond), all of whom have been killed within 24 hours. He discovered the victims were all separately investigating the operations of Dr. Kananga, the dictator of a small Caribbean island, San Monique. He also established that Kananga also acted as "Mr. Big", a ruthless and cunning gangster in the United States.
Upon visiting San Monique, Bond determined that Kananga was producing two tons of heroin and protecting the poppy fields by exploiting the locals' fear of voodoo and the occult. Through his alter ego, Mr. Big, Kananga planned to distribute the heroin free of charge at his Fillet of Soul restaurants, which would increase the number of addicts. Bond teamed up with Kananga's womanservant, Solitaire, to foil his plans, but was captured by Kananga. They soon escape, killing Kananga and destroying the drug crops.
Partnership with Damien Roth
Edit
Bond: "This may be an opportunity."
Kristatos: "This may be a trap."
Bond: "If you play the odds."
―James Bond and Kristatos
Retirement from field service and becoming M
Edit
Personality and traits
Edit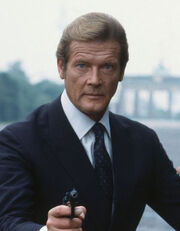 "Oh, a snake. I forgot, I should have told you. You should never go in there without a mongoose."
―James Bond
Relationships
Edit
Kane Templar
Edit
Danielle Templar
Edit
Charles Lytton
Edit
James Bond
Edit
Maurice Micklewhite
Edit
Gurth Hargreaves
Edit
Remington Steele
Edit
Damien Roth
Edit
Jane Moneypenny
Edit
Solitaire
Edit
Rosie Carver
Edit
Octopussy
Edit
Mary Goodnight
Edit
Martine Blanchaud
Edit
Anya Amasova
Edit
Corinne Dufour
Edit
Holly Goodhead
Edit
Della Churchill
Edit
Pola Ivanova
Edit
Lisl von Schlaf
Edit
Melina Havelock
Edit
Magda Freudenstein
Edit
Kimberley Jones
Edit
Stacey Sutton
Edit
Powers and Abilities
Edit
Simon Templar had no known superhuman abilities.
Abilities
Edit
Master Hand-to-Hand Combatant:
Acting: He was an actor prior to becoming a butler and would also use his natural acting talents during his time in MI6.
Multilingualism:
Aviation:
Vehicular Driver:
Medical Science: Simon Templar was capable of providing first aid and had basic medical skills.
Military Protocol:
Expert Gambler and Card Player:
Paraphernalia
Edit
Equipment
Edit
Transportation
Edit
Appearances
Edit
References
Edit